Transforming Cardiac Arrest Education through VR
The Columbia Laboratory for Extended Reality in Health Professions collaborates with the Emerging Technologies Consortium to redesign and develop a Virtual Reality Cardiac Arrest Training simulator to train medical students, trainees, and hospital staff to gain hands-on skills with hospital-based defibrillators for cardiac arrest management.
High fidelity simulation technology offers immersive learning environments for training pre- and in-hospital medical professionals to build upon their knowledge and clinical skills. Virtual Reality and Augmented Reality allow simultaneous training of practical skills, soft skills, stress, and critical situation management.
This interactive platform allows medical professionals to practice in a realistic but low-stakes environment with gamified and engaging elements such as a timed setup and shock mode. VR simulator challenges medical professionals to perform all necessary steps in administering a shock, including setting up the machine, connecting all cables, attaching it to the patient, and analyzing rhythm data. 
The research focuses on usability, complementing current live simulation training, and improving training efficacy. VR simulator is being tested for user experience, engagement, and clinical outcomes. Future developments will add more clinical scenarios, incorporating scenarios into a more extensive suite of VR-based training modalities.
VR Defibrillator scenes on Oculus Quest 2
Emerging Technology Research Grant Awardees
David Kessler, MD, MSc - Vice Chair of Innovation and Associate Professor of Pediatrics In Emergency Medicine at Vagelos College of Physicians and Surgeons
As Vice Chair of Innovation, Dr. Kessler oversees the initiation and investigation of novel clinical and educational programs in the Department of Emergency Medicine at Columbia University. He is also the Associate Medical Director for the Mary & Michael Jaharis Simulation Center at CUIMC and an international expert in healthcare simulation science and point-of-care ultrasound. He has led several funded multi-center research studies through technology-enhanced teamwork and skills training, focusing on improving cardiopulmonary resuscitation. Dr. Kessler's recent investigations include measuring cognitive load in virtual reality and applying natural language processing for assessment.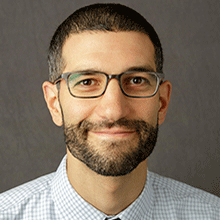 Robert Maniker, MD, MSc - Associate Professor of Anesthesiology at Columbia University Irving Medical Center
Dr. Maniker is the Director of the Acute Interventional Pain Program and has over 10 years of experience as a medical educator and education researcher. He specializes in Regional Anesthesia and Acute Pain Medicine. Dr. Maniker's research interests are in competency assessment, medical simulation, serious games, and virtual and augmented reality for medical simulation training. Dr. Maniker has received funding for education research from the Foundation for Anesthesia Education and Research and the APGAR Academy of Columbia University.
To reach out about potential collaborations with Emerging Technologies Consortium, please contact [email protected].