HP Campus of the Future: Emerging Technology Grant 2020-2021 Teaching and Learning Projects
2020 - the year when human interactions collapsed to two-dimensions. The forced shift in education through video conferencing this year is making students and teachers recurrently evaluate its effectiveness. Disciplines that involve physical interaction are facing more barriers in teaching and learning than those that don't require it. Our collective transition to the zoom flat-land begs the question: which fields actually benefit from the third dimension? 
Our partnership with HP has taken the current situation as an opportunity to work with our faculty to explore how teaching and learning in higher education can be improved with the help of Virtual and Augmented Reality. Through the 2020-21 Emerging Technologies Grant, we are studying exciting applications of augmented reality (AR) and virtual reality (VR) to fields such as biochemistry, journalism, social work, and user interfaces. 
This past summer CUIT's Emerging Technologies team spent most of their time researching extended reality (XR) hardware, software applications, and platforms, sourcing and developing 3D assets and applications. Starting off with virtual reality (VR) headsets, our goal was to select a headset that would allow faculty to easily incorporate the hardware within their classes without the need for dedicated gaming laptops/workstations.  The headsets also have to allow for 360 degrees of freedom and ideally wireless for ultimate mobility and portability.  While most VR headsets also need other hardware such as base stations for tracking the user, our goal for simplicity and ease of use led us to research headsets with built-in tracking.  We narrowed our research down to three headsets:
Oculus Quest
Pico Neo 2
HTC Vive Cosmos Elite  
Wireless headsets in 2020 have come a long way from their tethered counterparts and wireless headsets of the past.  While resolution for each is acceptable for classroom use and we would even recommend it for the casual gamer.  Tethered headsets that rely on dedicated laptops/workstations will provide greater fidelity for visual effects without dropping frames or lagging response. 
For classroom use though, the Oculus Quest could not be beaten in terms of cost, ease of use, and mobility.  Apps are easily accessible via Oculus's mobile app and most software vendor applications are on their mobile app store.  Recently Facebook has made a change to accounts used for Oculus apps. Now users must use a Facebook account to utilize the headset and download apps.  Users with Oculus accounts are now required to merge with their Facebook accounts.  
While VR headsets are only part of the equation.  The software and VR platforms needed for virtual meetups with collaboration features are just as important.  Our core requirements for collaboration were:
Support multiplayer interactions with at least 20 users  
Spatial audio
Collaboration features that include, whiteboarding, notes, and built-in web browser
Import 3D assets
Once again we narrowed our focus to three platforms as now there are a number of growing platforms in the virtual meeting space. 
Engage
Spatial.io
Mozilla Hubs
We selected Spatial.io as our VR collaboration platform of choice. What is immediately noticeable about Spatial.io are the avatars. A lifelike avatar is created from a photo so that the feeling of being together is greatly enhanced.  Sticky notes and images can be placed on the virtual walls, creating a digital notice board. It is also possible to display 3D objects. Via a webcam, a non-VR user can participate in the meeting, and screen sharing is easy. Write or annotate by simply moving your hand or controller, or point at something with your laser pointer. Spatial is designed for AR / MR and thus supports the Hololens and the Magic Leap. In addition, Spatial can also be used with an Oculus Quest or via the browser. Sharing the space is easy via a link, or pair a headset via a code. Note for use via the Oculus Quest, an app must be downloaded. Because it is in beta, it may take several days before access is granted. To participate via the browser you need a free Spatial account.  Up to 30 people can participate in a meeting.
The Awardees
Steve Feiner - Director, Computer Graphics and User Interfaces Lab
This project will combine a student-led discussion of research papers on selected topics in VR and AR, with the design and development of a VR or AR research project, either individually or in a small team. In addition to projects of a student's own choosing, ones will be made available that will be co-advised by faculty experts in a range of fields, from medicine and dentistry to the humanities.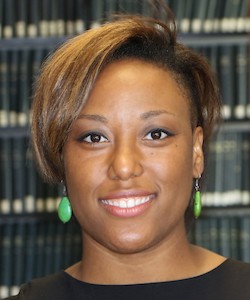 Dr. Courtney D. Cogburn, Associate Professor of Social Work
This project will immerse students in a virtual "classroom" for a semester-long course examining the intersections of extended reality (XR), social work and social justice and designing XR content to enhance an element of social work practice. While becoming familiar with XR technologies, students will focus especially on critically examining XR platforms as well as content being broadly applied in the name of social good, education and social work-related practice. XR content used in the course will range from educational support, clinical evaluation and treatment, professional development and diversity, equity and inclusion training and virtual meeting programs. Specific examples of XR content may include programs designed for professional training, such as case work with clients (Friends with Hologram) and police training (Apex Officer), reducing teen anxiety (Take-Pause) and educating people on pressing social issues (Becoming Homeless, 1000 Cut Journey). Students will examine the ethical considerations of the use of XR technology with marginalized and oppressed groups through a Power, Race, Oppression and Privilege (PROP) lens, which means their analysis and creation will be grounded in anti-racist and anti-oppressive frames (meaning do no harm to, correct past and on-going harms and uplift the most vulnerable) to explicitly avoid structural harm and more importantly seek structural justice. Themes examined throughout the course will include a) broad consideration of the XR landscape (historical and speculative analysis - where has XR been and where is it going), b) a critical examination of XR ethics, XR justice, data use and rights and c) imagining the possibilities for socioemotional harm, trauma as well as healing and justice. The course aims to provide a critical but balanced and practical view of XR technologies.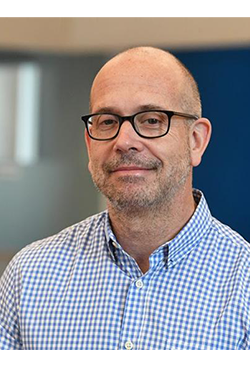 Dr. Mark Hansen - Professor and Director of the Brown Institute for Media Innovation
Building on insights from our network of reporters working with emerging technologies, the workshops developed will combine hands-on tutorials with lectures and discussions on best practices and user experience design. Students enrolled in the workshop series will receive formal training in photogrammetry, volumetric video, and web-based publishing methods. The Institute will then staff office hours for participants who completed the training and are interested in incorporating these emerging technologies into their coursework or master's projects. These weekly office hours will assist students in story development as well as technical assistance from capture to web/app presentation. As a byproduct of the work students will create through this program, the experience will provide students with an understanding of the tools, workflows, and vocabulary used in such productions, making them better equipped to enter ever-changing newsroom environments.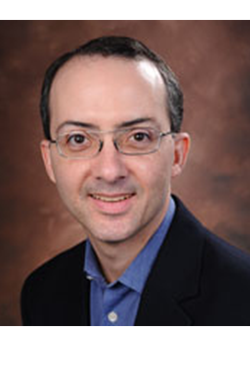 Brent R. Stockwell, Ph.D., Professor of Biological Sciences and Chemistry
This project evaluates the impact of holding weekly small group discussions on Zoom versus in virtual reality on several outcomes: quiz, exam, and problem set performance, student satisfaction, and research proposal quality. We hypothesize that the virtual reality format will be more immersive, and therefore will result in improved satisfaction, improved scores on these exams, quizzes, and problem sets reflecting better learning and a greater motivation and understanding for creating an effective original research proposal. Specifically, we hypothesize that some or all of the above course learning objectives will be enhanced by the use of small group discussions in virtual reality.